Checkbook vs. Dwolla
Posted by Checkbook on Jul 20, 2020

The unnecessary complications brought about by paper checks have become increasingly costly. Dwolla and Checkbook are two companies that aim to develop technology to overcome these hurdles.
Dwolla:
Dwolla, founded in 2008, focuses on automating business payments through the Automated Clearing House (ACH) Network. The Dwolla software is able to conduct a mass ACH, or bank-to-bank, transaction that can deliver thousands of payments within minutes. In addition, payers are easily able to track the status of payments.
Dwolla also created a system for Receive Only Users. Payers only need to collect the full name, email address, and bank account information of each Receive Only User. Then, payments can be sent in a single ACH debit transaction.
Dwolla is integrated with external systems including Quickbooks, Slack, and Plaid.
Checkbook:
Checkbook was founded in 2015 to eliminate the need for paper checks. Checkbook's main product is the Digital Check, which can be sent by businesses to multiple individuals through email. Similar to the Dwolla Receive Only Users' product, payers only need to collect the full name, email address, and bank account information of each payee.
Recipients of Digital Checks can select Instant Pay to receive funds. After confirming their bank account information, recipients are usually able to receive funds within 18 seconds. To accommodate for other preferences, recipients can also choose to receive Digital Checks in printed form or as a Virtual Credit Card (VCC).
Checkbook is integrated with accounting systems – Quickbooks, Accounting Seed and Sage Intacct – to assist businesses with accurate record-keeping.
Both systems have starter pricing plans with no monthly subscription fees. Scaled pricing plans are also available.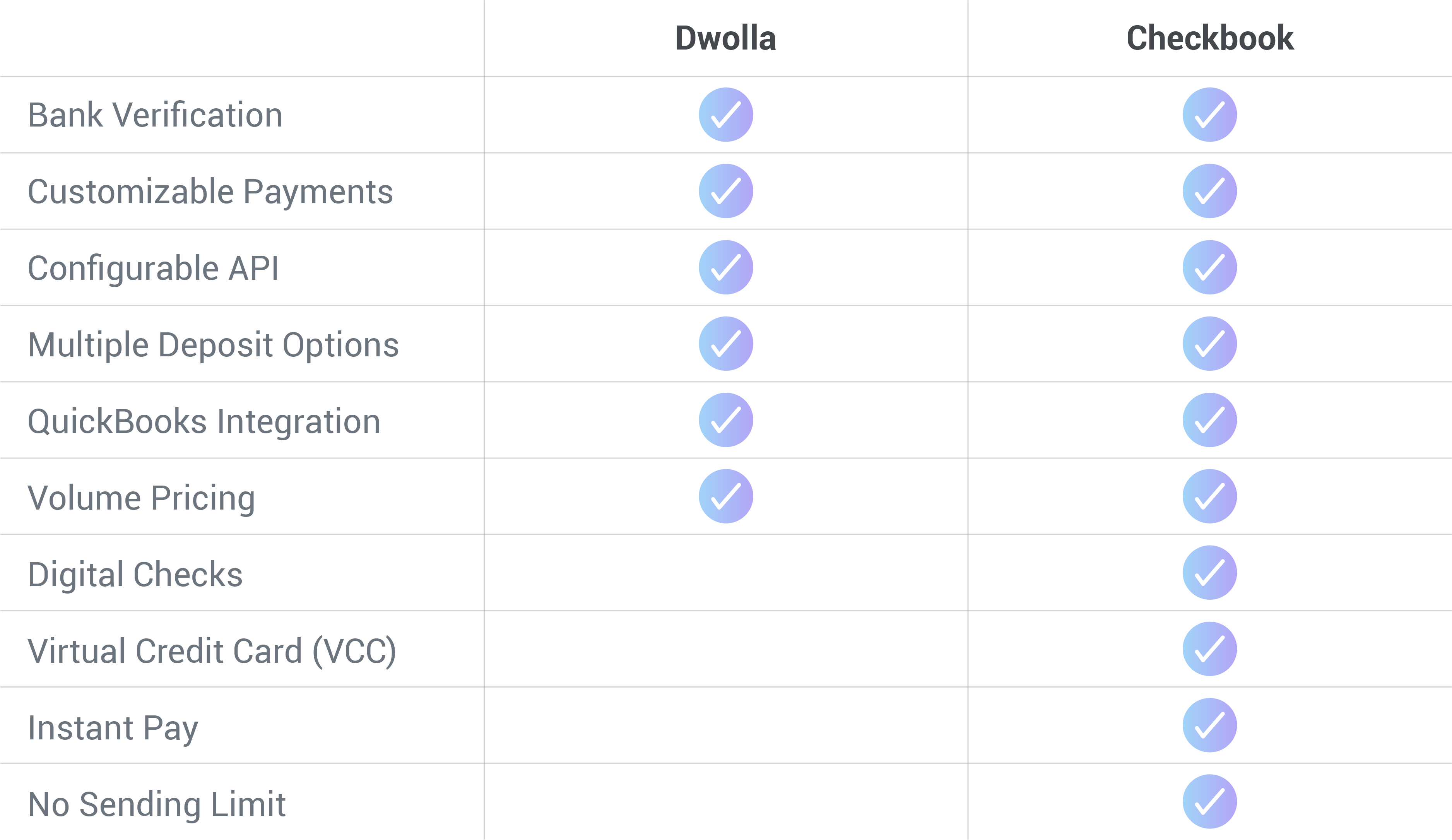 Related Posts
Checkbook Secures $10M in Series A Financing Led by MassMutual Ventures
Checkbook Inc announced that it has closed $10 million in Series A funding led by MassMutual Ventures. IA Capital, JPMorgan Chase and Cross River Digital Ventures are also participating in the round along with previous other investors.
Announcing: A New Way to Send Payments Instantly with Checkbook Virtual Credit Cards
For companies seeking better ways to disburse payments to vendors, merchants, and employees, fintech technologies have remained relatively stagnant over recent years for those that need to send money fast to the people who need it most. That now has changed. There is a new player in the disbursements arena called Checkbook.io and their platform has made it possible for businesses to distribute payments faster and more frictionless than ever before through their use of virtual credit cards.
How To Build Passive Income
There are many passive income strategies to consider for someone looking to create that extra stream of income.