Checkbook vs. Dwolla
Posted by Checkbook on Jul 20, 2020

The unnecessary complications brought about by paper checks have become increasingly costly. Dwolla and Checkbook are two companies that aim to develop technology to overcome these hurdles.
Dwolla:
Dwolla, founded in 2008, focuses on automating business payments through the Automated Clearing House (ACH) Network. The Dwolla software is able to conduct a mass ACH, or bank-to-bank, transaction that can deliver thousands of payments within minutes. In addition, payers are easily able to track the status of payments.
Dwolla also created a system for Receive Only Users. Payers only need to collect the full name, email address, and bank account information of each Receive Only User. Then, payments can be sent in a single ACH debit transaction.
Dwolla is integrated with external systems including Quickbooks, Slack, and Plaid.
Checkbook:
Checkbook was founded in 2015 to eliminate the need for paper checks. Checkbook's main product is the Digital Check, which can be sent by businesses to multiple individuals through email. Similar to the Dwolla Receive Only Users' product, payers only need to collect the full name, email address, and bank account information of each payee.
Recipients of Digital Checks can select Instant Pay to receive funds. After confirming their bank account information, recipients are usually able to receive funds within 18 seconds. To accommodate for other preferences, recipients can also choose to receive Digital Checks in printed form or as a Virtual Card (VCC).
Checkbook is integrated with accounting systems – Quickbooks, Accounting Seed and Sage Intacct – to assist businesses with accurate record-keeping.
Both systems have starter pricing plans with no monthly subscription fees. Scaled pricing plans are also available.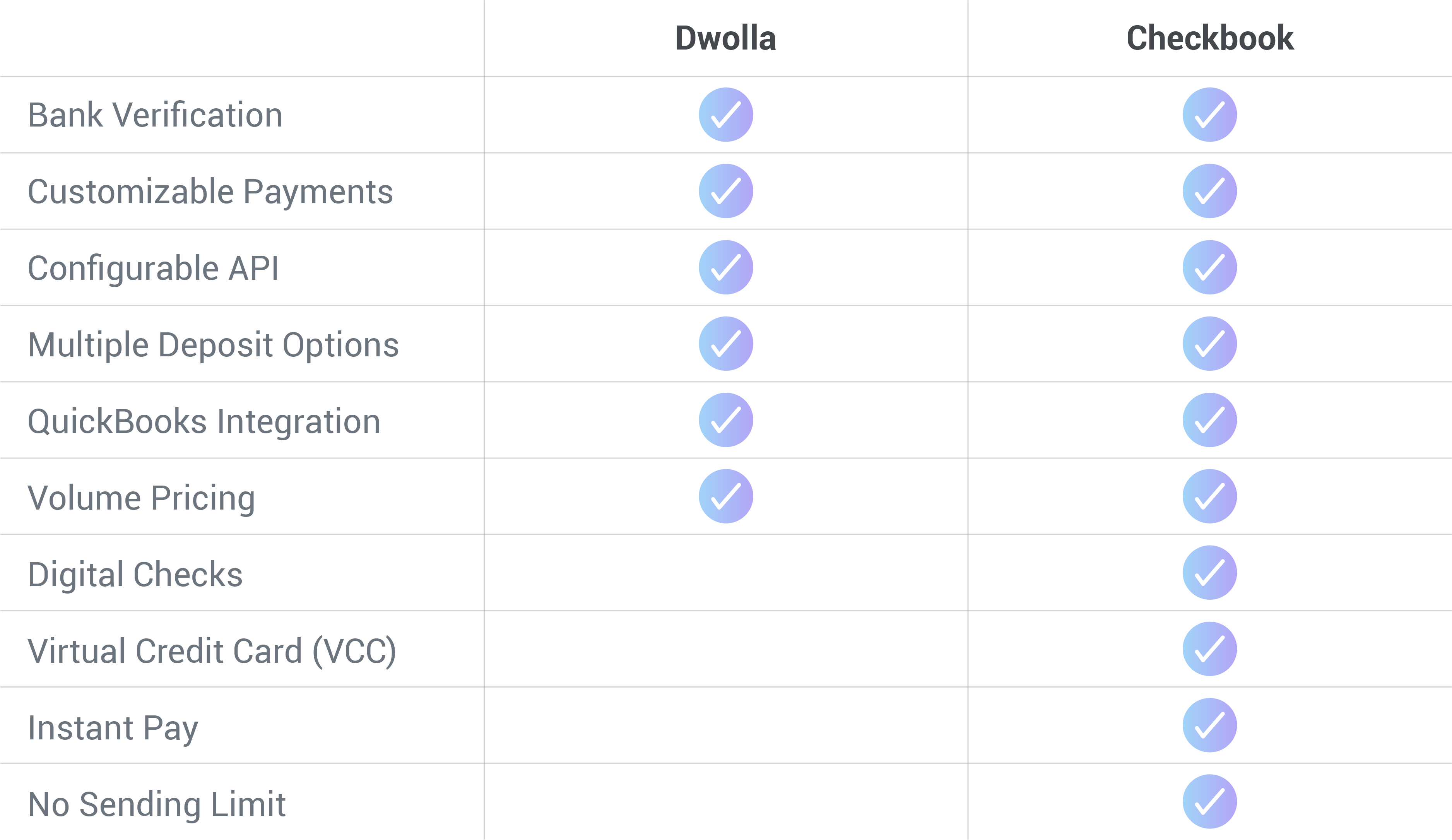 Related Posts
To Avoid Fraud, Avoid the Paper-Trail
A paper-trail not only makes a business susceptible to human error, but is also difficult to store and filter through in times of need.
Checkbook is Revolutionizing Payment Processing and Transforming a Billion-Dollar Industry
For decades, businesses and payroll companies have had to contend with slow and inefficient payment processing systems to disburse funds to employees, customers, and vendors. Even as companies continued to innovate in recent years, payment platforms remained stuck in the past with no way to connect the traditional methods to a new age of digital payments. With Checkbook, that connection has arrived.
Meet Checkbook: A Digital Check Service That Aims to Put End to Paper Checks
Checkbook's Digital Check solution gives Financial Institutions, control of their payment process. Checkbook's benefits become increasingly goodbye in its ability to cost-effectively enable businesses to send and receive payments in bulk and track everything in real-time online.